Madikeri: The 29th year of the Kodava National Day convention will be held at the Gandhi Maidan, the city's Gandhi Ground, by the Kodava National Council (CNC), in support of the constitutional guarantee for the autonomous Kodava Land and Kodava tribes, said NU Napappa, president of the organization.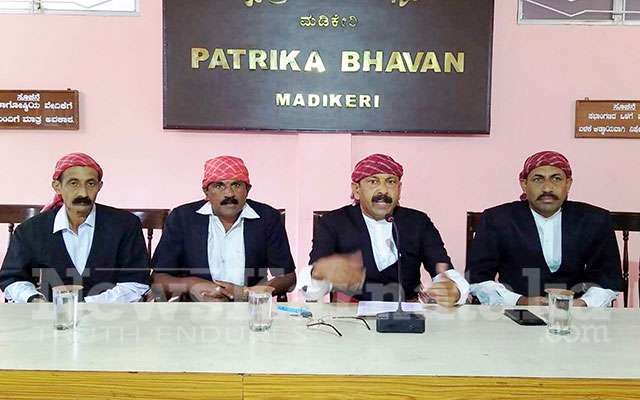 Speaking at a news conference, he said that the Kodava tribal culture, heritage, folklore, traditional habitat, thought, ideology, sentiments and disasters are unique and unique in Kodagu, which has its own cultural and mother roots. But we regret that our population is declining today as our population is declining.
According to the Sixth Schedule of the Constitution and the Human Rights Act of the United Nations Organization for the Protection of the Right to Self-Determination, Kodava Land is the birthplace of Kodava's geopolitical autonomy. Putting the claim on the list to be valid Flat-sensitive minority tribal clan with the most suksmati the UN General hakkottayagalannu be added to the list of Cultural Heritage yuneskoda intanjibal Flat tabled at the National Day, he said.
Nachappa said that the Satyagraha, which was brought before the French Embassy in Delhi to demand the pardon of Kodavar's death in Devatparambu along with Tipu's army, was successful in raising awareness of the world religion.
He also said that the Satyagraha at New Delhi's Jantar Mantar, demanding the fulfillment of various demands of the organization, was unveiled to the country's supreme pillar and to the national and international arena.
Organizers Chambanda Janat, Arayada Girish and Pudiyokkanda Kashi were present at the news conference.